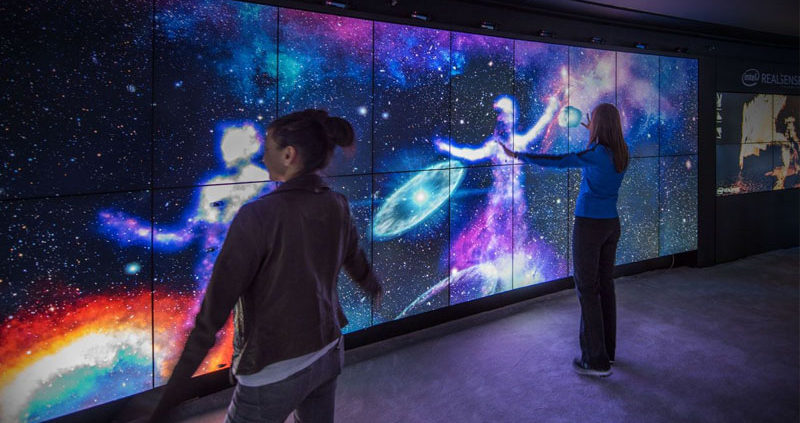 Digital displays are everywhere these days. Lots of us walk around with HD screens in the palm of our hands. This isn't a new trend. Even as digital signage began to boom over a decade ago, many could see the trend: if displays are everywhere, it means that individual digital displays just won't have the impact they used to. A big flat screen display hung on a wall just isn't going to attract attention the way it might have just a few years before.
And so those who wanted to stand out from the crowd, attract attention to their message, get noticed by the public, engage with their audience invested in video walls. Look around an airport, a mall, even a sports venue and you'll see that video walls are everywhere. Now that most commercial video wall displays come with built-in scalers and have the ability to daisy-chain, there's been a boom in small and simple video walls. The whole point of a video wall is to grab people's attention, and unfortunately a 2 x 2 (or even 3 x 3) grid video walls, with resolutions of 1080p (or even 4K) are now far too commonplace to generate the kind of impact customers are looking for. Digital displays are everywhere, but so are these simple video walls.
This is where the video wall processor comes in. Every AV and digital signage professional knows customer engagement in the digital space is about attracting attention to your display, and that means standing out from the crowd.  Everyone's using the internal daisy chain solution built into commercial video wall displays so to attract attention, to truly engage your customers, you now need to think about adding more capability, more flexibility, more options to your video wall and that means a video wall processor–an external device that renders the inputs and outputs and adds extra value over and above what the displays themselves can do.
Here are some key things to know about video wall processors. First, they allow you to go beyond the current standard video wall sizes and deploy more than 2 x 2, 3 x 3 etc. Some solutions even support up to 100 screens.
Next, a good video wall processor will allow you support aspect ratios beyond standard 16:9, or 4:3. This isn't all video wall processors and controllers, but the good ones will.  Check and be sure before investing.
Video wall processors also ensure you can have high resolution content visible from as far as possible, but looking good from as close as possible.  You want people to be able to come up close to the video wall and still be able to see the image crisp and clear. In those case you need to go beyond HD content (even beyond UHD 4K) to source resolutions of up to 6K, 8K and beyond. The only way to get this kind of resolution is with a video wall processor.
Finally, a good video wall processor will give you the power to deploy video walls with layouts other than the grid such as offset displays with unusual gaps between displays or with angled displays.
Ultimately, a video wall processor can be combined with a video wall controller and provide more advance controlling capabilities to your video wall system. For example, you can have interactivity features where the content, or layout (or both), on a video wall can be easily switched using web-enabled mobile devices, with just a single touch.
I've just listed out a lot of features and functionality and I can hear your skepticism: can a video wall processor do everything I just mentioned? And if so, surely it would be expensive. The truth is that there are actually cost effective options that allow you to deploy high-quality, high-performing video walls. The key thing to look for is a solution that leverages standard technology and isn't built on proprietary hardware. There are software and PC based solutions available today that drive video walls with great power and flexibility at a surprisingly reasonable price
https://folaida.com/wp-content/uploads/2018/05/vedio-wall-experience.jpg
450
800
admin
https://folaida.com/wp-content/uploads/2018/02/falaida-logo.png
admin
2018-05-11 02:22:15
2018-07-26 09:58:39
How Can A Video Wall Processor Improve Customer Experience?