H.265 VS H.264: Comparison between H.265 (HEVC) and H.264 (AVC)
What's difference between H.265 and H.264? This H.264 vs H.265 comparison shows you how H.265 (HEVC) advantages over H.264 (AVC)and help you find the best codec for video delivery without struggling with shortage of bandwidth, storage and quality.
The rise of 4K and 8K videos throws down a challenge to the current video compression standard H.264 since it no longer manages to encode Ultra HD videos at a satisfactory bit rate than the HD content. Contrarily, the next-gen H.265/HEVC video compression standard gains upper hand over H.264, thanks to its better compression efficiency. H.265 (HEVC) allows 50% reduction of bit rate yet delivers the same video quality as H.264 AVC, or in other word, greatly enhances the video quality and lower the artifacting at the same bit rate compared with the H.264 AVC. So to speak, H.265 is becoming the most commonly used formats for video compressing, distributing and recording 4K/8K UHD contents, let alone the HD/SD videos. So what is H.264? What is H.265? This H.264 vs H.265 comparison will focus on the definitions of High Efficiency Video Coding H.265 and Advanced Video Coding H.264, along with the differences between the two standards H.265 and H.264, based on file size, bandwidth usage, bit rate and quality.
What is H.265 (HEVC)?
H.265 is also called High Efficiency Video Coding (HEVC). As its name suggests, H.265 is twice high efficiency than H.264 when encoding video. Namely, it halves the bit rate at the same level of video quality compared with its predecessor. It is targeted at next-generation HDTV displays and content capture systems which feature progressive scanned frame rates and display resolutions, as well as improved picture quality in terms of noise level, color spaces, and dynamic range.
What is H.264 (AVC)?
H.264 or MPEG-4 AVC is a video coding format that is currently one of the most commonly used formats for video content compression and delivery. H.264 reported bit rate savings of 50% or more compared with its predecessor MPEG-2 Part 2. It has a wide range of applications, covering all compressed video ranging from low bit-rate streaming applications (YouTube, iTunes, Vimeo, Facebook, Instagram) to various HDTV broadcasts over terrestrial, cable, and satellite. It is also commonly used for Blu-ray Discs, DVD storage, IP packet network, and digital cinema applications with nearly lossless coding.
H.265 vs H.264: Compression Ratio
H.265 (aka HEVC) doubles the coding efficiency compared with its predecessor H.264. This means H.265 video saves around 50% of the bit rate at the same quality of coding. Specifically, the average bit reduction for H.265 is 64% at 4K UHD, 62% at 1080p, 56% at 720p and 52% at 480p. So if you download HEVC H265 movies instead of H264 movie, you can play HEVC on iPhone Android device with 50% storage saved. And the movie quality won't be affected at all.
H.265 vs H.264: Bandwidth Use
H.265 is superior to H.264 regarding to the bandwidth usage. Because H.265's algorithm uses the efficient coding, H.265 promises approximately 40-50% of reduction in transmission bandwidth needed to compress the video (e.g. in 720p) over H.264 at the same video quality. So you can enjoy 4k video smoothly even at 1-2 Mbs bandwidth constrained network connection. On the contrary, the UHD videos encoded with H.264 will be watched at a stuttering mode.
H.264 vs H.265: Quality
The big difference between H.265 and H.264 lies in the video quality at the same bit rate. In H.264, the border areas of the block are likely to be distorted, because each macroblock is fixed and the data is independent to each other. While H.265 offers sharper detailed on faces and fabrics and smooth gradient areas with less blocking and fewer artifacts, since the new standard determines the size of code unit based on regional information. So H.265 is better than H.264 when it comes to compress a video with better image quality.
HEVC vs H.264: File Size
The great compression ratio also has a great relationship with the digital storage requirement of video streams and transmission. The reduced bandwidth leads to smaller file size. Test shows a video encoded with H.264 is 1-3X larger than H.265. This is favorable for hard drive storage or the device with limited storage space required to house the video data.
HEVC vs H.264: Performance Comparison
H.265 vs H.264, which one is more suitable for you for videos playback? Of course, H.264 codec is applicable for almost all common devices. But things are not feasible to H.265. For devices that can decode HEVC video, performance is a concern.
H.265 VS H.264: Side-by-Side Comparison between H.265(HEVC) and H.264(AVC)
Category
H.265/HEVC
H.264/AVC
Name
MPEG-H, HEVC, Part 2(Approved in Jan 2013)
MPEG 4, Part 10, AVC (Introduced in 2004)
Application Area
1. Professional H.265 Encoder/Decoder

2. High definition videos like 1080p, 4K, 8K resolution videos

3. Next-generation HDTV, Satellite TV

1.Blu-ray discs

2.Streaming internet videos from Vimeo, YouTube, iTunes Store etc.

3. Web software like Adobe Flash Player and Microsoft Silverlight

4. HDTV broadcasts over terrestrial, cable, and satellite

Key Improvement
1. 40-50% bit rate reduction at the same visual quality compared to H.264

2. Potential to realize UHD, 2K, 4K for Broadcast and Online (OTT)

1. 40-50% bit rate reduction compared to MPEG-2

2. Led the growth of HD content delivery for Broadcast and Online

Progression
Successor to MPEG 4 AVC, H.264
Successor to MPEG-2 Part
Specification
1. Support up to 8K UHDTV (8192×4320)

2. Supports up to 300 fps

3. 3 approved profiles, draft for additional 5 ; 13 levels

1. Support Up to 4K (4096×2304)

2. Supports up to 59.94 fps

3. 21 profiles; 17 levels

Drawbacks
Computationally expensive due to larger prediction units and expensive Motion Estimation
Impracticable for delivering 4K/8K UHD content due to high bit rate requirements. Frame rate support restricted to 59.94.
Conclusion:
H.265 has many advantages over H.264, e.g. It supports up to 8K UHDTV (8192×4320 maximum), 4:4:4 and 4:2:2 chroma sub-sampling, supports up to 300 fps (earlier versions only supported up to 59.94 fps), data rates of several GB/s, and file size 'subjectively' half the size of H.264 with better quality! The H.265 has potential impact on accelerating 4k screens demand and sale, offering higher quality video even in bandwidth constrained network, etc.
LCD Video Wall for digital signage
As digital signage technology continues to expand, digital displays are exponentially increasing in size. Video walls are used in a variety of places where disseminating information is important and advertising is possible. This can include:
Auditoriums / Atriums / Broadcasts on-air / Concerts and events / Museums / Retail / Universities / Corporations / Hospitals / Casinos / Hotels.
Fortunately, there are a full range of digital signage technologies you can leverage for a video wall solution that works best for your business. Some of the key considerations before integrating a video wall solution should be:
Ease of implementation / Image quality / Location (indoor vs. outdoor) / Design flexibility / Physical footprint / Ease of maintenance and cost of repairs / Viewing distance.
What is an Ultra Narrow Bezel LCD?
When it comes to a video wall solution, LCDs have been the popular option for years, and an ultra-narrow bezel LCD is one of the best suited for the job. LCD stands for "liquid crystal display" and chances are, you use this technology every day with your smartphone.
LCD panels in a video display are composed of a layer of liquid crystal that is sandwiched between two polarized pieces of glass. When electricity is applied, the liquid shifts to create an image. Since the crystals in this liquid do not produce their own light, a backlight is created to illuminate the display. LEDs are the most common means of backlighting LCDs, and the technologies are often advertised as a package deal, i.e. "LED-LCD."
Although LCD video walls are tiled like LEDs, there are spaces in-between the displays known as "bezels." The ultra-narrow bezel design is the most ideal for video walls because it creates the smallest seams. In fact, with the liquid technology and a narrow bezel, video walls can display a highly uniform brightness.
Pixel Construction
Each pixel in an LCD consists of a molecular layer aligned between transparent electrodes and polarizing filters. Pixel is determined by an electric field and the placement of light. Other features:
Single multi-layered LCD module / 2M cells in the module / Pixel structure less visible / Dense pixel (compared to LED) / Advantages to Ultra Narrow Bezel LCD Digital Signage.
There is a reason why LCD technology has always been the prime choice for video walls. The following are some of the advantages to choosing this hardware for your digital signage installation:
Brilliant and fluid colors / Higher resolution / Energy efficient – reduce power consumption up to 50% / Most affordable option on the market / Easy to size and install / High uniform brightness / Slim installation depths / Better for indoors / Hardware is simple and easy to maintain / Brightness ≥ 500 – 700 cd/m2 / Ultra-narrow and takes up little space.
Please note, with the release of new sub-2 mm bezel gap displays, they have now become very fragile during installation. Due to the small piece of sheet metal holding the glass in place, any force applied along the edges can shatter the display, so extra care must be taken during installation.
Image quality, energy efficiency, size and location are just a few factors that will help you to determine the appropriate digital signage display.
Quick Things to Remember:
Color uniformity is affected by light. Indoor use causes various light levels.
Beware of optimal viewing distances.
For indoor environments, the key concern is image quality and contrast.
Comfortable viewing distance equals half of retina distance.
Content, application, perception and budget are final determinants of hardware choice.
Practical use of 4K UHD resolution in ProAV applications
By Mike Tsinberg – 6.13.2015
New native TV resolution of 3840pixels×2160lines is commonly described as 4K UHD (Ultra High Definition) format. 4K UHD has 8,294,400 pixels per frame that about four times the pixel count of Full High Definition 1080p format (1920×1080=2,073,600). It's also defined to have a minimum of 16×9 aspect ratio and can be refreshed at 24 (23.98), 30 (29.97) or 60(59.94) frames per second.
4K UHD can quickly exceed all the available data bandwidth we have available through most common connectivity formats such as HDMI or HDBaseT, therefore we have to carefully define color and bit sampling depth.
As any other TV resolution format 4K UHD will undergo color sub-sampling in the TV studio for postproduction and transmission purposes.
Starting with 4K UHD TV studio cameras all images sampled in the so-called 4:4:4 format. Below is a 4×4 pixel grid that explains this format. Each pixel here is represented by Luminance Y pixel and two Color difference pixels: Cr (red differential) and Cb (blue differential). The matrix converting YCrCb to RGB is fully transparent. So this 4:4:4 format represents most color information available at the camera sensor.
4:4:4 Format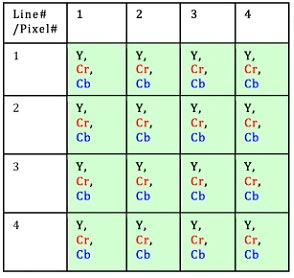 Traditionally in broadcast studios and postproduction facilities the 4:4:4 format is sub-sampled to so called 4:2:2 format were only half Cr/Cb samples are used in horizontal direction. Such sub-sampling is well suited for human vision because our retina has substantially less color resolution then black & white. Therefore for video material it is very hard to find any quality difference between 4:4:4 and 4:2:2 formats.
4:2:2 Format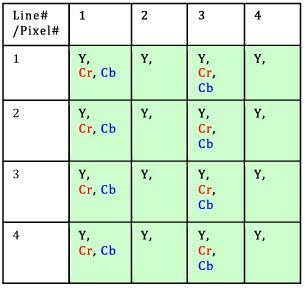 To achieve further data rate reduction 4:2:0 is used as the transmission format of compressed TV programs. 4:2:0 takes advantage of the fact that our retina has reduces color resolution is all directions. 4:2:2 only reduces color resolution in horizontal direction. 4:2:0 reduces color resolution in both horizontal and vertical direction as it shown below:
4:2:0 Format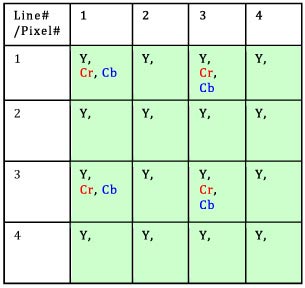 Again it is very hard to find any quality difference between 4:4:4 and 4:2:0 formats for regular video material.
All TV programs transmitted today via Terrestrial, Cable or Satellite or Internet streaming is encoded in 4:2:0 and 8 bit/pixel format before compression. The data saving is obvious. For example 4K UHD 4:4:4 8 bit/pix at 60F/s requires 12 Gb/s data rate. The 4K UHD 4:2:0 8 bit/pix at 60F/s requires 6 Gb/s data rate. That is reduction by factor of two for a change that is very hard to see on the TV screen.
Currently HDBaseT – now most commonly used digital connectivity format over twisted pair – support 4K UHD 4:2:0 8 bit/pix at 60F/s as per table below: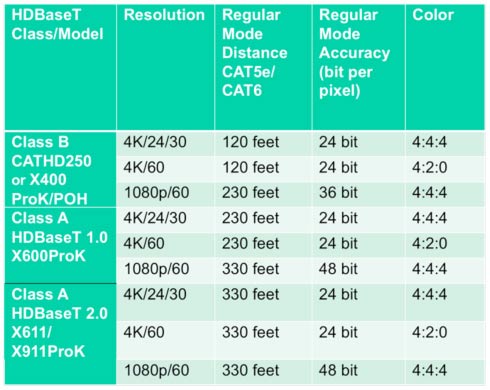 4K UHD 4:2:0 8 bit/pix at 60F/s is also part of latest HDMI 2.0 specification as per table below where Black is HDMI 1.4 spec and Orange is HDMI 2.0 spec.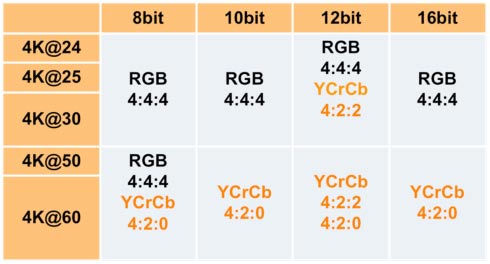 Understanding HDCP 2.2 for 4K UHD
What is HDCP protection?
HDCP (or High-definition Digital Content Protection) is a digital content protection technology developed by Intel to help prevent copying of digital AV content – and, therefore, reduce piracy of movies and video content from DVD, BluRay, digital streaming, etc. by connecting a recording device into an AV system
So using the example of a simple AV system featuring a HDMI source and a display, the two devices will communicate with one another every 2 seconds to establish a HDCP handshake in order for HDCP encrypted content to be successfully displayed.
What's new about HDCP version 2.2?
The latest version – HDCP 2.2 – has been developed to support 4K UHD video signals which we're going to see more and more of over the next couple of years as UHD content becomes more commonly available.
HDCP 2.2 protects 4K UHD content and –theoretically – is a more secure protection protocol in order to protect all this new content that the movie makers and TV production companies are currently investing in.
It works through a number of encryption keys communicated between all devices on the AV system (think of it, perhaps, as a series of digital 'handshakes' between devices) to verify that Source devices (such as BluRay or HDTV satellite boxes), Display devices (screens or televisions) and Signal Control devices (such as Splitters or Matrices) within an AV system are all HDCP 2.2 compliant (and, therefore, are not 'rogue' unlicensed HDCP non-compliant recording devices).
In addition, this latest release of HDCP also features a 'locality check' – which prohibits sharing of HDCP 2.2 protected content over long distances. The locality check sends a random number from the Transmitter, which it needs to receive back from the Receiver device within 20 milliseconds in order to authenticate the signal.
How will this affect AV system?
At this early stage, still the majority of content we're viewing is either at standard or HD resolutions and, therefore, you don't need to change all of the devices on your systems straight away!
So if you're sticking with 1080p video transmission, there's currently nothing to worry about and your system is fine.
However, as we start to move towards 4K UHD content which will be carrying an HDCP 2.2 signal, your current devices are going to start having problems!
Unfortunately, HDCP version 2.2 isn't backwards compatible with legacy devices and legacy devices aren't upgradeable, with no firmware upgrades currently in the pipeline.
So what we suggest is that if you are considering moving towards UHD content anywhere in the near future, then any new devices you're buying for your existing system and all devices if you're looking to install a complete new system, then you should definitely be checking specifications for HDCP 2.2 compliance. (Many 4K UHD displays being released into the market feature both HDMI v2.0 and HDMI v1.4 ports, meaning that your screen will effectively be backwards compatible).
You may not need it right now (and it will still work with current systems and content), but as you move towards UHD in the near future, those ultra-high resolution images simply aren't going to show on your screens or TVs!
HDBaseT: The Worldwide One-cable Standard
HDBaseT is the global standard for the transmission of ultra-high-definition video & audio, Ethernet, controls, USB and up to 100W of power over a single, long-distance, cable. For audiovisual, consumer electronics, and even industrial PCs, this can be a simple category cable (Cat6 or above), for up to 100m/328ft.  For medical and government applications, optical fiber is usually preferred, spanning several kilometers.  For automotive, HDBaseT can be transmitted over a single unshielded twisted pair (UTP), for up to 15m/50ft, or any other commonly used media (such as STP, HSD, coaxial and fiber).
Since its introduction in 2010, HDBaseT has revolutionized the video distribution sector.  It brings a rich feature set, increased reach, and better performance than existing solutions.  The cornerstone of the technology is 5Play, the converged and simultaneous delivery of uncompressed ultra-high-definition digital video and audio, Ethernet, USB, control signals and power over a single cable.
Today, HDBaseT is optimized for different markets, addressing the specific needs of such sectors as audiovisual, automotive, industrial PCs, consumer electronics and more. The common denominator in all these sectors is the need to distribute high-quality signals over the best, lowest-cost infrastructure, for the longest distance possible.  HDBaseT delivers quality of experience, eliminating cable clutter and without compromising performance and high quality.
Why HDBaseT?
Before HDBaseT, video professionals had some serious challenges to contend with, mostly: How to deliver high-quality content over a reasonable cable (both in terms of cost and ease of installation), for more than a few meters/feet?  Usually the answer involved some serious compromises on quality, distance, or cost and complexity.
Enter HDBaseT.
HDBaseT eliminated the compromises by offering:
Long-distance transmission: 100m/328ft with a single hop, or even more with several hops
Signal convergence: audio & video, Ethernet, controls, USB and power over a single cable, eliminating clutter, simplifying installation, with reduced infrastructure costs and low cabling weight
Performance: the current generation can deliver up to 4K (ultra-high-definition) video, and 8K is already in the roadmap
Simplicity: category (LAN) cable and UTP cables are easy to install and to field-terminate.  Cat cables also use standard RJ-45 lockable connectors.
Affordability: HDBaseT relies on low-cost infrastructure without compromising on performance, reducing not only installation but also maintenance costs; the ability to transmit power over HDBaseT eliminates the need for electrical cables and outlets near all of the devices
Standardization: HDBaseT is an industry standard, facilitating interoperability
Versatility: HDBaseT is an industry-proven technology, which can be easily adapted across different sectors